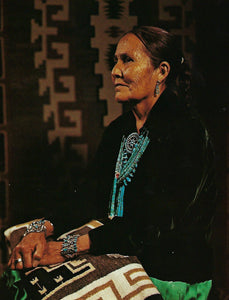 Helen Long is the Matriarch of a wonderful family of Navajo Silversmiths. She was married to Jimmie Long, a well known Navajo jeweler in his own right. They are both deceased, but left a permanent mark on Native American Jewelry. Helen is best known for her work in creating Sterling Silver Kachinas and Yei figures and creating them as jewelry pieces. She was featured in Arizona Highways Magazine in the 1970s, showcasing her unique skillset.

Her daughter, Ella Long, is a talented silversmith and bead roller. Helen's grandson, Toby Henderson, followed in her footsteps and has perfected the art of three dimensional sterling silver Kachinas and Navajo Yeis.
Sorry, there are no products in this collection.