Squash Blossom Necklaces
3 products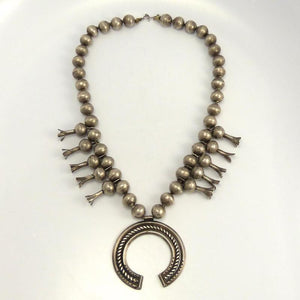 The squash blossom developed slowly and has roots deep in non-native culture and history. The principle part of the necklace is the crescent-shaped "Naja" pendant, which the Southwestern Indians first saw as iron ornaments on the horse bridles of the Spanish Conquistadors in the late 1500s and early 1600s. Captured or traded, these ornaments soon graced the necks of the local Native populace.
The acquisition of a "Naja" was a matter of pride and the ornament, reproduced in the various metals, was proudly displayed during ceremonies. These pendants, originally brought from Spain, reflected the influence of earlier Moorish conquests and the occupation of Spain.
Once silver beads came into fashion around 1880, Navajos found a way to display these "Najas" on necklaces. The squash blossom beads were fashioned after the pomegranate-shaped buttons on the pants worn by the Spanish. These beads were possibly misnamed long ago by a trader who thought they looked like squash blossoms. The squash blossom necklace today stands as a fusion of cultures and has become synonymous with Southwest American Indian jewelry.
Read our deep dive into the history of Squash Blossom necklaces