Veronica Benally
0 products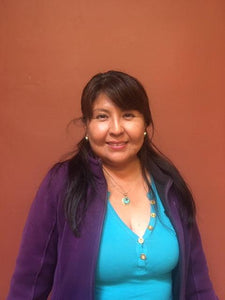 Clan:  Tower House born for The Tangle People

Veronica is an award winning silversmith specializing in channel and cobble inlay.  She learned silversmithing from her husband Ernest Benally in 1993 and has been working independently since that time.  

Veronica has won awards in shows at the Museum of Northern Arizona, The Heard Museum, Eiteljorg Museum and the San Diego Museum of Man. She has concha belts in the permanent collections of the Eiteljorg Museum in Indianapolis, Museum of Indian Arts and Culture in Santa Fe and the University of San Diego.

She and her husband, Ernest, live in Gallup, New Mexico.  They have three children and two grandchildren.

Hope Etsitty is the eldest daughter of Veronica and Ron Benally. Hope has so much promise as an artist, and will go far like her parents.
Sorry, there are no products in this collection.