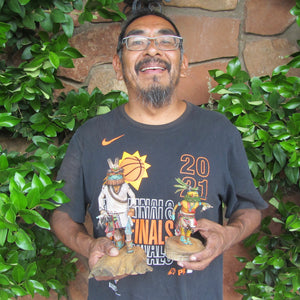 Arvin Saufkie, of the Coyote Clan, was born in Tuba City, Arizona. He lives on the Hopi Reservation where he learned Kachina doll carving from his uncles and brothers. Arvin has been working on his craft since he was eighteen years old.

Arvin is known for Kachina dolls that feature considerable detail and portray vivid movement.  Arvin's brother, Murphy Saufkie, is also a very fine kachina doll carver.

The quality of Arvin's dolls have continued to improve year after year. He has a very accomplished career as a carver and has become one of the best Hopi carvers we've ever worked with.