Clarissa and Vernon Hale
41 products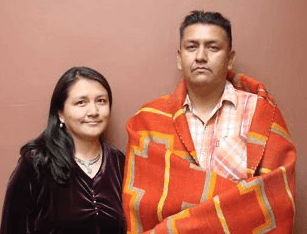 Husband and wife, Vernon and Clarissa Hale, are masters at making one-of-a-kind jewelry, all from natural stones and handmade silver. The duo are Navajo and originally from Window Rock, AZ. 
    Vernon and Clarissa Hale consider their parents notable jewelry artists and their main influences and teachers as well; Clarissa's parents being David and Alice Lister, and Vernon's parents being Vernon Hale Sr. and Sadie Hale. Because of their parents, Vernon and Clarissa both grew up around a lot of traditional Indian jewelry, which inspired them to create works of their own.  Clarissa's sister, Dee Nez, is also an accomplished jewelry-maker.  Clarissa began picking up the craft of jewelry at an early age of 13, and Vernon started his jewelry trade at age 27. 
   Vernon and Clarissa Hale's style and techniques involve heavy silver, lapidary, clusters, and beads. "Our craft is something that comes from deep within our thoughts and dreams. We make jewelry because when we finish the piece we see how unique the piece is. It's 'one of a kind,'" said Clarissa.