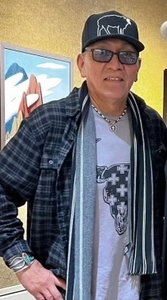 Curtis Pete is a Navajo-Hopi silversmith born in Parker, Arizona. He moved to the reservation when he was four years old and was raised by his grandparents. He attended boarding school through his elementary years.  His secondary education was locally, at Tuba City High School and then on to Phoenix College.
When Curtis was 27, he began learning the techniques of silversmithing from his uncle, Robert Yellowhair. After branching out on his own,  he specialized in traditional designs and styles. Over the years, he has also learned and mastered the working of gold.  His overlay and stampwork is clean, well -executed, and lends itself beautifully to the concha belts, bracelets, necklaces,  rings and earrings he currently creates.

Curtis has a unique ability to transform traditional symbols into very distinctive contemporary designs that always blend with the shape of the jewelry piece he has made. He is considered one of the best traditional silversmiths on the basis of his skill level and design ability.
1993 proved to be a banner year for this talented artist. At the exciting and prestigious Gallup Ceremonial show his entered buckle received a Blue Ribbon.  His second entry, a necklace, took First Place there.  He also entered a  show at Aspen, Colorado that same year and was the recipient of a First Place Award for a beautifully executed necklace and pendant.
Curtis' work has further evolved recently, branching off from his more traditional style and experimenting with stunning new creative designs that are technically masterful.