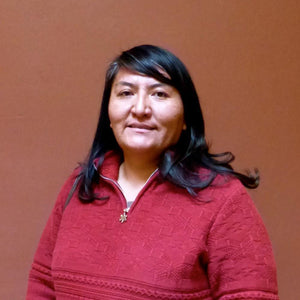 Dee Nez was born in Winslow, Arizona with jewelry in her blood.  As the daughter of silversmiths Alice and David Lister, she has been around expert jewelry makers since she was born.  When she was 13 years old, her mother began to teach her the craft of colorful cluster work that is a defining trait of the Listers' traditional Navajo jewelry.  Dee picked up the craft immediately and began to put her own mark on the pieces she helped create.
Since then, Dee Nez has become a master at traditional cluster work.  She excels at choosing beautiful color combinations and uses high-quality, high-polish stones in all of her jewelry.  She is jokingly referred to as the "artistic consultant" in her family, not only when it comes to creating her own pieces, but also because of the role she plays in helping her mother and father design their jewelry.
Dee learned all of her best skills, she says, from her mother, who has been encouraging her throughout her life.  Dee Nez is the 2nd oldest in a family of seven children, and lives on the Navajo Reservation across from her parents in the house that she built with her husband, Fred.  Her sister, Clarissa Hale, is also an accomplished jewelry maker.