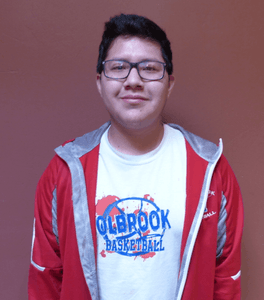 Derrick Joe was born in 1998 and is the grandson of the well-known silversmith Al Joe.  He's the oldest of three children, having two younger sisters.  Derrick learned jewelry-making from his grandfather when he was only 12 years old.  He caught on quickly and soon began showing his work at the Santa Fe Market, earning a Blue Ribbon in the Youth Division.  Derrick draws his inspiration from Al's artwork, whom he calls "Nalii", which is a Navajo word for grandfather.  His Uncle, Larry Joe, is also a great silversmith.
    Derrick began taking community college classes when he was in High School, and is now a Junior in college at only 19 years of age.  He's studying civil engineering at Northland Pioneer College.  He hopes to one day get into the construction of homes or bridges. 
     Derrick finds time on the weekends to continue making jewelry; of course after all of his schoolwork has been finished.   Whenever he does have some free time, Derrick likes to spend time with his family, ride his horses, and play video games.  Derrick is a great up-and-coming artist with a bright future ahead of him!