Dorleen Gashweseoma
17 products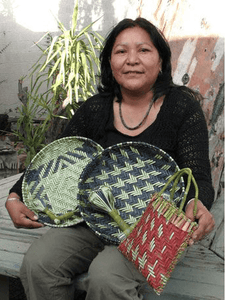 Dorleen Gashweseoma is a renowned Hopi basket maker, celebrated for her exquisite craftsmanship and dedication to preserving the artistry and traditions of her people. Born into the Hopi Tribe in northeastern Arizona, Gashweseoma has devoted her life to creating intricate baskets that reflect the rich cultural heritage of the Hopi community.

Dorleen is of the Spider clan from the Hopi village of Hotevilla (Third Mesa).  She was taught the Third Mesa style of basket weaving at a young age by her mother Mina Gashweseoma.  Carrying on the traditional methods of her mother and grandmother, Dorleen has become an award winning master weaver.  Her specialties include wicker baskets and plaques, plaited baskets, burden baskets, sifter baskets, peach baskets, and piki trays used to hold bread or cookies. She's also started making some yucca purses.

In crafting her baskets, Gashweseoma uses time-honored techniques, such as coiling and plaiting, to create a tight weave and a sturdy structure. She meticulously gathers and prepares her materials, including yucca, sumac, and rabbitbrush plants, ensuring that her baskets remain true to the authentic methods and materials used by her ancestors.

"Yucca, a desert plant with spiky leaves that is related to the agave, is the most readily available weaving plant," Gashweseoma said, so she uses it for most of her weaving projects. "The yucca — you can use that year-round, and you can pick that anytime except for December," she said. Rabbitbrush and sumac can only be picked certain times a year, so they are not used as much."

Dorleen Gashweseoma's commitment to preserving and promoting the traditional art of Hopi basket making has made her a cultural steward for her community. Through her work, she has helped to keep the ancient practice of basket making alive, ensuring that future generations of Hopi women can continue to learn and uphold this cherished skill.