Jesse Monongya
2 products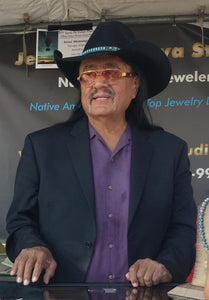 Raised by adoptive parents, Jesse Monongya did not learn until adulthood that he was the son of a famous jeweler. "I didn't know my dad, Preston Monongye, until after I came home from the Marines and Vietnam. Then I looked for him and found him. I didn't know he was a famous jeweler already. I'd watch him work, doing his silversmithing, but at first I didn't really have any interest in it.
"Then I had a dream that my mother found me—I never knew my mother either—but in my dream she found me and told me that I would become a famous jeweler. It was like a lightning bolt hit me. And I looked at my dad's work again, and it seemed like I knew what I was doing already, right off the bat. So I worked with him a while, and then I started entering competitions, and I won…beat my father and some of the other big-name guys. So that's how it started."
Jesse is highly regarded as having the finest inlay work accomplished today.  He lives currently in Scottsdale, AZ, remaining somewhat close to the Hopi and Navajo reservations.
Along with producing his own work, he has been actively involved in several facets of art.  He assisted in the placing of historic and contemporary Native American jewelry in permanent display at the Heard Museum.  He also was the artist in residence at the Heard Museum during 1986-1987, teaching and demonstrating the centuries old art of Navajo jewelry making.
"When I first started making jewelry, I reached back to my grandmother's teachings about the prayers and the four sacred colors…I would dream the colors, and I would wake up in the middle of the night and draw it out."
—Jesse Monongya, Navajo artist