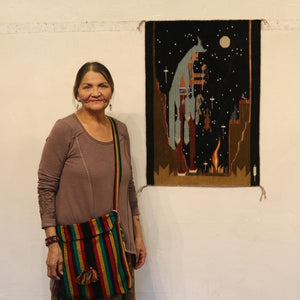 Margaret Cody lives on the Navajo Nation northeast of Flagstaff, AZ. She was raised by a very traditional family. Her father was an important Medicine Man of which there are fewer and fewer today.
She learned of songs and prayers from her father and mother who both spoke only Navajo. She learned to weave from her mother, Dorothy Cody. Dorothy still made her rugs from her own sheep and taught Margaret to gather Arizona Black Walnut nuts and leaves. Margaret's weavings are made with beautiful native wool with warm browns from the walnuts.
Margaret is also very innovative in the use of her Father's instructed healing and ceremonial designs. Whether it is the protective horned moon or the life giving sun, she softly blends her colors and designs in an almost 3 dimensional manner, whether in her long wall runners or her famed Skinwalker Pictorials. Margaret's rugs are unique and invite the eye to try to capture the beauty of the artistry that is Margaret Cody.