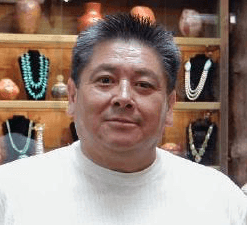 Na Na Ping is recognized worldwide as a highly talented Native American contemporary jeweler. His numerous awards and the masterfully created jewelry for which he is known have given him an exceptional reputation for his cutting-edge, modern inlay jewelry.
While his extensive knowledge of stonecutting comes from many years of practicing his inlay techniques, Na Na Ping's lifelong inspiration comes from his uncles who were master lapidary artists and jewelers.  His advanced lapidary techniques allow him to be versatile and dramatically transform high-grade, natural stones into the exquisite inlay jewelry that is treasured by collectors from Arizona to Japan.
Na Na Ping is a Pascua Yaqui from the Village of Guadalupe, located outside of Tempe, Arizona. His cultural beliefs and ties to the tribal elders have always been intuitively strong. Yaqui elders carry the tradition of their origin, which speaks of the Pascua Yaqui as the "Yomea," meaning "the people," coming from the stars to live where they are today. Many of Na Na Ping's works detail the universe with its stars and planets in his inner-beauty jewelry pieces, which depict these symbols on the inside of his jewelry to recognize that beauty comes from within. 
Na Na Ping's designs are original, handmade works of art. He works in both gold and silver and uses the finest natural stones available in today's world market.  He resides with his family on the Nambe Pueblo Indian Reservation near Santa Fe, New Mexico. When he first came to live with the Tewa people, he was given the Tewa Indian name "Na Na Ping" by a tribal elder and grandfather to his wife.  Na Na Ping translates in English to Aspen Mountain.
Na Na's son, Michael Dukepoo, followed in his father's footsteps and was also an accomplished silversmith until he sadly passed away in 2022.