Peter Nelson
134 products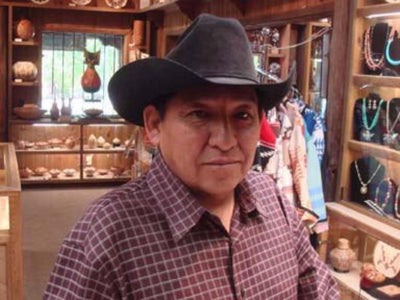 Navajo silversmith, Peter Nelson was born in Keams Canyon, AZ in 1954 and now resides in Flagstaff, AZ.  He comes from a family of 10. His mother is a weaver and his brother Howard is a well regarded silversmith as well. Peter is married and has three daughters and two grandsons.
His background studies were at The Institute of American Indian Art. His painting teacher was Onalee Loloma, jewelry he learned from Skip Holbrook, and sculpture from Alan Houser. Peter has been a jeweler working in silver and gold for 40 years.
Peter has a distinctive contemporary style of his own, using geometric designs reminiscent of Navajo rug patterns. He often combines Navajo stamping with overlay and will sometimes add a stone cabochon here and there as a tasteful garnish to a piece.
He is a very talented, humble, kind man who is highly enjoyable to work with.