Phil Poseyesva
4 products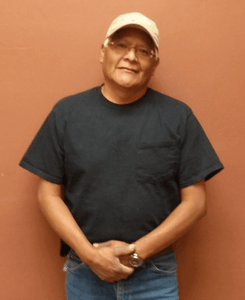 Phil Poseyesva mastered the technique of traditional Hopi overlay as a young silversmith. A self-taught artist, he started making jewelry at the age of thirteen. Today, Phil takes the clean, abstract designs of Hopi overlay and combines them with high quality stones such as natural turquoise, lapis lazuli and coral, making his work easily distinguishable from others.
While the symbols Phil uses are drawn from centuries old traditions, his work has a very modern and abstract look. He uses both sterling silver and 14-karat gold. The stones and shapes of his jewelry are often asymmetrical, adding even more drama to the highly polished silver on black background.
Hopi overlay is described as sleek, clean, balanced and dramatic. The artists take abstract Hopi symbols representing clan symbols, rain clouds, corn, birds and katsinas that were used in pottery and basketmaking, and place them into silver and gold.
The Hopi overlay technique was developed in the late 1930s to give Hopi jewelry a distinctive look. The process is difficult and requires precision and a steady hand to achieve the smooth lines and intricate detail.
Rather than making a stencil to use as a guide to cut his silver, Poseyesva draws his designs directly onto the silver or gold. A hole is punched into the silver and a tiny saw is used to cut out the design. In an appliqué-like technique, the designs are soldered onto a bottom layer of silver that will become the contrasting background.
After the piece is cooled, Poseyesva uses his own handmade chisels to create a textured background that follows the shape of the design. Chemicals oxidize and darken this layer. The textured and oxidized recessed background, combined with the highly polished raised surface, gives Hopi jewelry its characteristic look.
Poseyesva comes from the Second Mesa Village of Mishongnovi on the Hopi Reservation in Northern Arizona. Although he has gone to school and worked in several fields both on and off the Reservation -- building construction, diesel mechanics, landscaping and recreation -- he has always maintained his art of jewelry making. Poseyesva says that it's often during these breaks from full-time jewelry making that he gets re-energized and comes up with new design ideas. A member of the Bear Clan, Phil signs his work with a stylized bear paw or a double "P."