Raymond Yazzie
0 products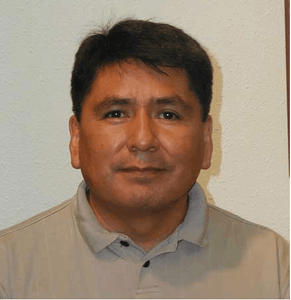 Raised in a family of silversmiths, Raymond Yazzie became intrigued with the art of making jewelry at the age of ten. He was given a job by famous trader Joe Tanner, helping his own older brother, Lee Yazzie. The job was cleaning the glue off the sticks on which Lee mounted turquoise for making cabachons.  Ray worked ten years for Joe Tanner and learned from watching his brother cut and inlay stones.
At the age of fourteen, Ray was a part of a collaboration which won Best of Show at the 1973 Gallup Intertribal Ceremonial, for a concha belt he inlayed. He has since then won numerous prestigious awards, including first place at Santa Fe Indian Market.
Ray brings a certain life to his works, by allowing the stones to inspire the design. He is best known for his gradation of colors , and precise beveled stones. He blends the contemporary look of inlays with the traditional techniques of chisel lines. He likes the security of using the heavier gauge silver, which makes a sturdy base for the inlays, and discourages breaking or popping out of stones. Every one of his pieces is individually custom made. He fabricates each piece from a flat piece of silver. He never uses casting or lost wax procedures  and each of his pieces of jewelry is a work of art.
" I owe a lot of gratitude to Lee for he demanding , excellent instruction, and to Joe, for his never ending encouragement . I am glad I stuck with it!. I get my inspiration especially from my family. My mother was incredibly supportive and always emphasized  the duality of my work. My wife, Colina, who is also an artist, is now my greatest inspiration. She often contributes creative ideas to my designs, as I do to her weaving, I draw my strength from her."
Sorry, there are no products in this collection.