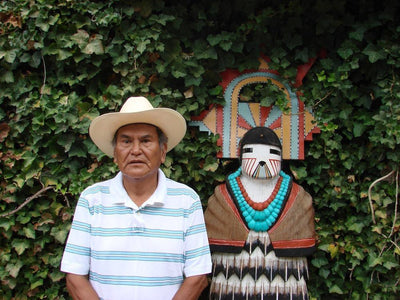 Richard Begay was born and raised in Navajoland, Arizona. Throughout his art classes in school, he always wanted to create the perfect shape. His first career, however, took him into the Forest Industry. He soon realized that he wanted to follow the yearnings of his heart and create beautiful jewelry.
He borrowed jewelry tools from his father-in-law and set to work, learning the demanding craft of silversmithing. Richard was immediately drawn to the intricate inlay work, for which he is known for. As he perfected his craft, Richard explored different techniques of inlaying. He was always searching for the best way, the most beautiful setting, the perfect harmony of material and craft.
He also developed an eye for choosing the best stones for his inlay. Turquoise and coral are his favorite, but Richard used a wide variety of stones and shells, including malachite, spiny oyster, and pacific coral. Not limited to the usual in anything he did, he also inlaid opals, sugilite, lapis and other exotic stones into his award-winning pieces.
The importance of harmony in his work was echoed in his silverwork, especially his pendants. In these pieces, he incorporated important symbols from his culture. Corn was a significant gift to the People by the Creator--it represents life to the Navajo. The Yei-Be-Che is the personal link between the Navajo gods and mortal man. The Bear, one of the four animals given to the first people, embodies power and wisdom. It was provided for protection and guidance, and to ward off evil. Richard also used the Steppe Design found in the wedding baskets and recreates special times, such as the social dances he goes to. Encircling it all is his extraordinary inlay, adding color and life. The beautiful things Richard looked for exist in his creations.
Richard passed away in 2013.