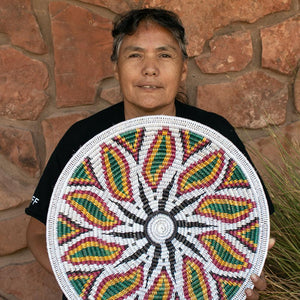 Navajo weaver Sally Black is one of the most innovative weavers of traditional and pictorial sumac baskets today. Sally was born in 1959 to another famed basket weaver Mary Holiday and grandmother Betty Holiday. She was raised at Douglas Mesa in Utah and started weaving when she was 8 years old. She lives now in Monument Valley.
She has won Best of Show awards in Colorado and the Museum of Northern Arizona. Also Best of Class at Gallup Intertribal ceremonials and the Heard Indian Fair. In 1975 she was watching her mother weaving a Navajo Rug when she got the idea to put Navajo Rug designs and other pictorial elements into her baskets. One of her favorites was the healing figures Yei-Be-Chai dancers.
She is credited with starting these unusual designs and is constantly striving to create new elements.