Sunshine Reeves
32 products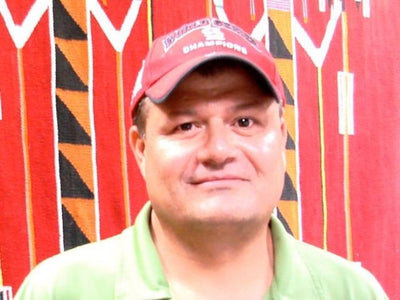 Born in Twin Lakes, New Mexico in 1966, Daniel "Sunshine" Reeves is an award-winning Navajo artist of many talents. Sunshine learned the art of silversmithing from his older brothers at the age of 24 and has since become an innovator in the realm of his craft.
From bracelets and belt buckles to boxes, knives, bowls, and candle holders, Sunshine Reeves' intricate stampwork on silver is rooted in tradition with eyes toward the future. He has earned many accolades throughout the years, including Best of Show at 1997 Santa Fe Indian Market and Best in Class in 1998.
"Most people have no idea how complex the process is to create these unique art forms," says Sunshine Reeves. His work is more than simply a piece of jewelry or a box -- it is an art form. On an average piece, Sunshine will use 10 to 20 different handmade stamps to create the unique patterns for which he is so well known.
Sunshine's work is collected throughout the world, including Japan, Europe, and Korea. His work is exhibited in galleries and museums across the country.