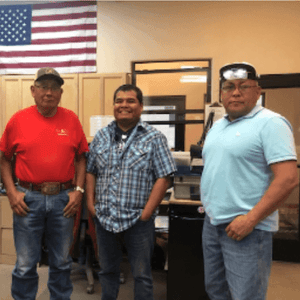 Tim Charley, Charles Willie, and Peterson Chee are a group of talented Navajo silversmiths from the Gallup area in New Mexico on the Navajo Reservation. They specialize in beautiful channel inlay, mosaic inlay, and cobbled inlay designs. Their jewelry features high quality craftsmanship and beautiful stone selections. As a group, they are known as the Supersmiths.
Charles Willie (left) grew up in Twin Lake, New Mexico, Tim Charley (center) is originally from Yah-ta-hey, New Mexico, and Peterson Chee (right) comes from Vanderwagon, New Mexico. Most of their jewelry is individually signed and hallmarked. Tim Charley's hallmark is a "T" or a "C", Peterson Chee hallmarks his work with a "Chee", and Charles Willie signs his work with a "W".
They create jewelry designs in a variety of stone combinations, which allows for rings, earrings, bracelets, and necklaces to be easily matched together as sets. Some of our favorite stone combinations include:
Arizona Blue: Kingman Turquoise
Blue Water: Lapis, Denim Lapis
Indian Summer: Turquoise, Lapis, Sugilite, Spiny Oyster Shell, Gaspeite, and Variscite
Native Earth: Black Jade, Tiger's Eye, Picture Jasper
Pine Hill- Variscite, Sleeping Beauty Turquoise, Kingman Turquoise, Gaspeite
Plum Crazy: Light and Dark Sugilite
Shalako: Sugilite, Opal, and Turquoise
Spring Mountain: Sleeping Beauty Turquoise, Chinese Turquoise, Sugilite, Lapis, Variscite
Sunrise: Spiny Oyster Shell, Sleeping Beauty Turquoise, Gaspeite
Turquoise Valley: Sleeping Beauty Turquoise, Kingman Turquoise
Tuxedo: Black Jade, Mother of Pearl
These talented Navajo artists guarantee their work, for life! In the unlikely event that you ever have any issues with the inlay or silverwork of your piece, they will repair it for free. Contact us for details.