Trent Lee-Anderson
12 products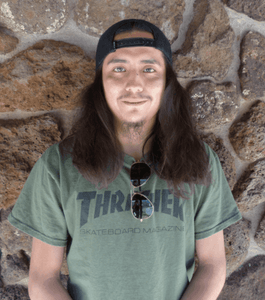 Trent, twin brother to Kyle  and younger brother to Wyatt, was born on January 12, 1993. His hobbies include skateboarding, hunting, camping, fishing, and hiking with his brothers.
Ever since Trent was 12 years old, he has been learning the art of jewelry making from his well-known father Allison Lee.  At a young age, he began winning several awards from SWAIA Santa Fe Indian Market in Santa Fe, New Mexico. In 2006, he won Honorable Mention, Youth Division, and in 2007 First Place - Youth Division. In 2008 he won First Place, Best of Division, Best of Classification - Youth Division.  In 2010 he again won First Place, Best of Division, and Best of Classification in the Youth Division.
In 2013, Trent came in first place overall in the necklace category at Santa Fe Indian Market, the most prestigious award as he was competing against all the well-known artists.  In 2017, he won First in Division at the Heard Museum and also First in Division at the Indian Market, earning a Blue Ribbon.
Trent is using his innovation to branch out from his well-known bead making to other pieces; such as bola ties, concha belts, and rings.  Trent has been able to solely support himself through his art.  He is a fantastic silversmith and has a very exciting future!