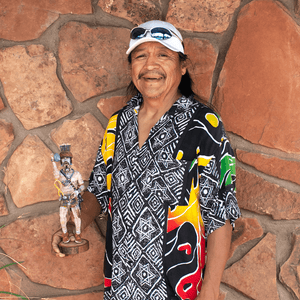 Verne Mahkee was born on November 13th, 1963 to Mary and Courtney in Tuba City. He was raised partly in Flagstaff then later moved up to Old Oraibi at Hopi. He makes very fine Hopi Kachinas usually out of one piece of wood.  Verne taught himself how to carve and has been carving for 20 years.
He went to Phoenix Indian High School where he first started winning awards for his artwork. It was there that he won a plaque from Rio Salado for his art in 1982. He has since won awards at Gallup Ceremonial and at the Santa Fe Indian Market.
Verne gives credit to Alvin James, his uncle, for helping to teach him and also his great uncle's family. He also gives credit to his high school art teacher, Winton Coles, for helping him with his art.
Verne takes inspiration from his art form and the tradition that inspires his work. "I say this given talent has its roots within all and I would like my artwork to merit on its own. I am proud to say that Hopi is where my heart is. I have had some of the best teachers, Alvin James (uncle) and my great uncle's family. Last but not least, high school art teacher Winton Coles. I know Delbridge Honanie as also being another of his pupils. I hope to bring the best in cottonwood art to light. Thank you, Vern Mahkee, Corn Clan, Old Oraibi, AZ."