Darryl Dean Begay
3 products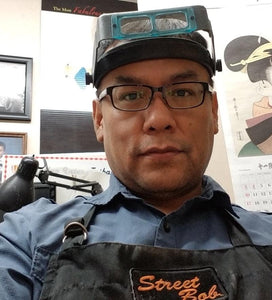 Darryl Dean Begay is a renowned Navajo jeweler who has created his own niche in the Native American Art world using a variety of techniques, including the traditional Navajo tufa cast technique which dates back to the 1850s, the stone inlay technique, and the traditional Navajo silversmithing technique using chisels and file. Darryl's jewelry designs are unique and rich in Navajo culture and set with the highest grade stones.

Darryl first learned tufa casting from his uncle Bobby Begay in 1997. Darryl also learned from some of the best in the business. He creates one master piece at a time using only top grade materials. His knowledge of turquoise is superb as many collectors, friends, gallery owners and others have asked him to decipher or give his best guess of the type of turquoise found or used in their own collection. Lone Mountain turquoise is one of his favorite turquoise.

Darryl loves being a jeweler and is very grateful to still be in the jewelry business since 1998. He has won numerous awards at the SWAIA Santa Fe Indian Market, the Heard Museum Guild Fair & Market in Phoenix, AZ and at the Gallup Inter-Tribal Indian Ceremonial in Gallup, NM. Darryl and his wife, Rebecca T. Begay, who he also works with and who is also an accomplished jeweler, won the prestigious Best of Show Award at the 2009 Santa Fe Indian Market for a concho belt titled, "Return of the Long Walk," a tribute piece to the present-day Navajo people whose ancestors survived the Long Walk, some of which were the artists' own relatives. This belt depicts each concho in human/figure forms rather than in the common circular or oval shapes, a style in which, mainly Darryl, has become known for. Darryl hopes to continue to create beautiful and unique pieces of jewelry for as long as he can or for as long as the Lord wills.

Darryl has also passed on his tufa casting and jewelry-making knowledge by teaching others in his family who include his wife, Rebecca, his brother, Lee Begay, his cousin, Philander Begay and his youngest son, Robert W. Begay, all of whom are also talented artists. Darryl has also taught online and in-person classes to his followers on social media or any one interested in learning.